Name: Mosspelt
Gender: She-Cat
Age: 84 moons (that may seem like a lot, but Dustpelt is about 12 years old [a.k.a 84 moons] and he isn't even an elder yet)
Clan: ThunderClan
Description: A long furred dark gray she-cat with a scar running through her right eye (which is blind), a shredded left ear, white paws, a white tail tip, and lime green eyes.
Personality: Mosspelt is very sweet and caring, bus she can also be very stubborn, and once she has given her opinion on something, she'll stand her ground. She is kind, fair, and very gentle. She has gotten a little snappy in her old age, but what cat doesn't? Mosspelt loves kits and spends lots of time in the nursery. Mosspelt is very accepting, loves to give advice, and does anything she can to help cats in need.
Mate: Sunheart (dead); not looking for a mate
Kin: Owlkit (son; dead), Goldenkit (daughter; dead), Meadowroot (daughter), Stormeye (son).
Best Friend: She is friends to all cats, but she doesn't have a specific best friend.
History: Mosspelt was born to two amazing parents, along with her brother Fernwing (now dead). She was always a stubborn, but sweet. When she was newly apprenticed, Mosspelt and her brother were attacked by a ShadowClan warrior, which left them both seriously injured, and Mosspelt blinded. Because of this, Mosspelt had to learn how to fight and hunt on her own, but this made her stronger. Mosspelt was always a respectable warrior, until she fell in love with a ShadowClan warrior named Sunheart. No cat believed she would, for his father had been the one that blinded her, but soon they found out he was expecting Sunheart's kits. At this news, Sunheart new he couldn't be separated from Mosspelt any longer, and he joined ThunderClan. Mosspelt gave birth to 4 healthy kits; Owlkit, Goldenkit, Meadowkit, and Stormkit, but when they were only 4 moons old, a terrible accident left Owlkit and Goldenkit dead, and Stormkit seriously injured. This devastated Mosspelt and Sunheart, but while they're surviving kits became bitter and angry, Mosspelt reminded herself she still had two precious kits and moved on with life. Mosspelt retired to the elders den along with Sunheart 16 moons ago, and Sunheart died 9 moons ago.
Secret Word: Shellheart
*psssst, she is an elder by the way*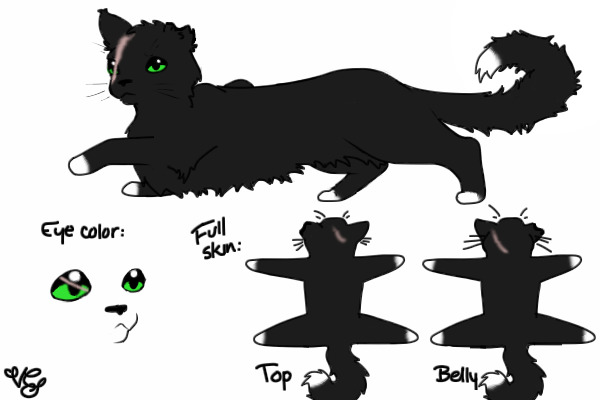 [picture colored by me but not drawn by me]