Name: Meadowroot
Gender: She-Cat
Age: 18 moons
Clan: ThunderClan
Description: A brown she-cat with darker stripes and golden eyes.
Personality: Very loud, outspoken, and rowdy. She is always speaking out of place, challenging what other warriors say, and she has trouble following orders. She is stubborn and easily annoyed. She is most like her mother. Although she has many flaws, she is has an unbroken love for her brother Stormeye and is very protective of him. Meadowroot is also very close to her mother, Mosspelt, and spends a lot of time with her in the elders' den.
Mate/Crush: None at the moment.
Kin: Stormeye (brother; alive), Owlkit (brother; dead), Goldenkit (sister; dead), Mosspelt (mother), Sunheart (father; dead)
Best Friend: Lionstep
History: Born into a litter of four, Meadowroot was loved by both of her parents. But, she was despised by some in her Clan for being half ShadowClan. Meadowroot was always outgoing, but after the death of her siblings Owlkit and Goldenkit, and with Stormkit seriously injured, she was forever changed. After that terrible day, there was a noticeable change in her. She wasn't this sweet little outspoken kit, but instead a constantly angry and challenging kit. She refused to listen to anyone, even her own mother at times. She even started her apprenticeship a moon late. For moons and moons Meadowroot refused to trust anyone, until the day she had a near death experience. That's when she realized she shouldn't be fighting her Clan but instead she should be helping her Clan by becoming the best warrior she could be. Now, while she is sharp-tongued and stubborn, Meadowroot is a formidable warrior who would do anything to protect her brother and the rest of her Clan.
Secret Word: Shellheart
Name: Stormeye
Gender: Tom
Age: 18 moons
Clan: ThunderClan
Description: A blue-gray tom with dark blue almost black eyes and a white tail.
Personality: Stormeye is a bitter stubborn tom. He is very close to his sister Meadowroot, but is more accepting of other cats than she is. He doesn't take to orders well, but he is loyal to his Clan and will do anything to help it. He is very quiet, but if you approach a touchy topic, he will raise his voice. Stormeye is a little reliant on his sister when it comes to protection, he isn't the best fighter. He was very close to his father, but now that he has past, he is very close to his mother. He is also very fond of his best friend Paledawn. He sometimes thinks of her as more than a friend, but is afraid that if he gets too close to her, she would be taken away from him.
Mate/Crush: None, but would like one.
Kin: Meadowroot (sister), Owlkit (brother; dead), Goldenkit (sister; dead), Mosspelt (mother), Sunheart (father; dead)
Best Friend: Paledawn
History: Stormeye was born into a litter of four. His siblings were Owlkit, Goldenkit, and Meadowroot. Stormeye was the most accepted out of his litter, his father being a ShadowClan warrior he and his littermates didn't have the easiest life, for he looked like his mother who was the daughter of a respected ThunderClan warrior. But, after a terrible accident that left Owlkit and Goldenkit dead and Stormeye answered, Stormeye was changed. Right after the accident, Stormeye became sheltered and very quiet, refusing to socialize with anyone, even his family. He wouldn't eat, and was slowly starving to death when he realized the agony he was causing his sister Meadowroot. She was so upset, afraid she would loose her last littermate, and he refused to let her go through that. The two became the best of friends, and when she was forced to wait another moon before becoming an apprentice as punishment, he waited with her. Meadowroot's temperament also rubbed off on Stormeye, making him bitter and sharp-tongued, but he is more accepting of other cats than she is. Stormeye has never been a good fighter, so Meadowroot tends to protect her brother, always fighting by his side. But, to make up for his bad fighting skills, Stormeye is a tremendous hunter.
Secret Word: Shellheart
Meadowroot: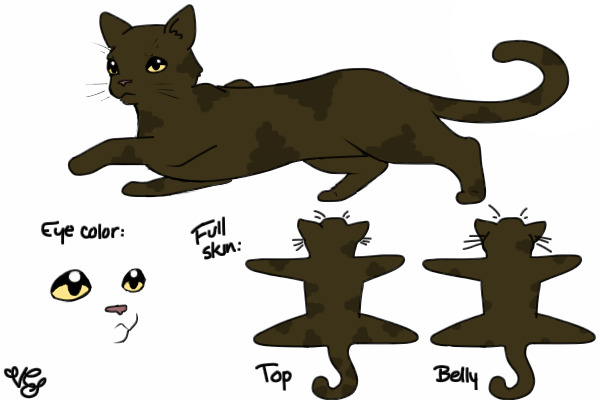 Stormeye:
(pictures colored by me, but not drawn by me)